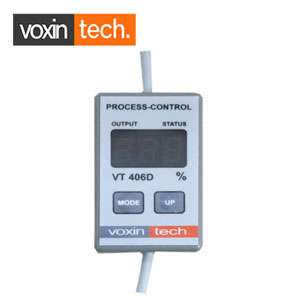 VT 406D Voxintech Process Indicator
VT 406 D is a 3 digits mini-process indicator on the cable. It serves for the visualization of analog values with the possibility to participate in the control of the process.
We are Manufacturer & Supplier, of Voxintech Sensors, Voxintech Connector Cables & Voxintech Controller in Delhi NCR,Noida,Mumbai,Nashik,Nagpur,Chennai,Bangalore,Kolkata,Pune,Jaipur,Hyderabad,Gurugram, Kerala, Jaipur, Udaipur , Rajkot Chandigarh, Surat, Gujrat and Ahmedabad.
More Information About Voxintech Sensors & Voxintech Controller, We are Connect with us on +91 9953039482 & Info@voxintech.com
More Information
Model
VT 406D
Input
2 Analog
Dimension mm (WxHxD)
61 mm X 37 mm X 16 mm
Material
Plastic
Ambient Temperature
+0°C to +50°C
Supply Voltage/4A Output
10-30 VDC
IP Rating
IP 40
Brand
Voxintech
Country Of Origin
India