Voxintech Ultrasonic Label Gap Sensor
Voxintech manufacturing and suppling a best category of a Label Gap sensor for industrial labelling machine in packaging, the Labelling Machine is basically used for food Packaging Industry and Pharmaceutical Industry. Label Gap Sensor is used for sensing between two label gap. This Label Gap Sensor Properly Sensing a two label of Gap and Printing Properly.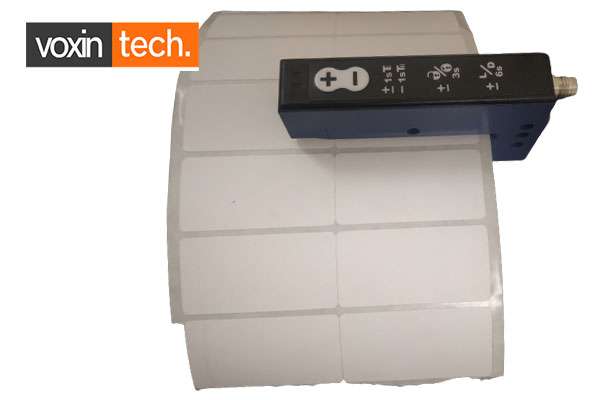 Label Gap Sensor is a Work Properly for a Labeling on a Products. Label Gap Sensor is use for Bottle Labelling Machine for Printing and Sensing a Gap, or Gap Sensor is also very useful for Pharmaceutical Labeling Machine for Printing and Packaging a Products.
Label Gap Sensor is one of the best Ultrasonic Label Sensor for sensing a gap in two label for labeling machine, its work for printing a label for bottling plants in Label Detection in high Speed and Reliable, this is a fast and best of new technology and design of Industrial Machine and Application in Transparent Label and Color Film experts, this Ultrasonic Label Sensor is expert in fork Sensor and well Suitable for Label Gap Sensor, Transparent Label Sensor and Clear Label Sensor, its a Special Ultrasonic Fork Sensor for Reliable & Monitoring Label Detection Sensor also Available. Sensor Configuration is easy to using two buttons and Cable or IO Link Interface.
Voxintech Label Sensors are best for Long term used in a Regular Way, So that its a high performance and IP65 & IP67 IP Rating Sensor in metal Body with all type of security. Voxintech Ultrasonic Label Gap Sensor is also a used for , Transparent Label Sensor, Clear Label Sensor , Label Detection Sensor.
Get in Touch With Us
Features a Label Gap Sensor
Easy to use ,teaching is easy and fast.
High Speed Performance & Adjustable
Machine Friendly & Cost Effective Sensor
Best in Accuracy , Reliable & Durable
Maximum Distance Between Labels: 2.5 mm
Low Maintenance Sensor & long term using Sensor
More Information About Voxintech Ultrasonic Label Gap Sensor, We are Connect with us on +91 9953039482 & Info@voxintech.com 
Voxintech Manufactures World class Ultrasonic Label Gap Sensor and cater to all the the requirement of machines automation and control, Voxintech products are highly relevant and effective in their application. Voxintech Ultrasonic Label Sensor is IP65 and is made in Metal Body with high Frequency. Ultrasonic Label Sensor Manufacturer and Supplier in Delhi/NCR, Noida, Gurugram, Faridabad, Haryana, Kolkata, Mumbai, Pune, Nashik, Nagpur, Chandigarh, Chennai, Bangalore, Gujrat, Hyderabad, Kerala, Nashik, Nagpur, Punjab, Tamil Nadu, Cochin, Thane, Jaipur, Udaipur, Jammu & Kashmir an all over world to buy a best price , you can connect with us on for best performance in industrial area.